Funding gaps increase uncertainty and hardship for internally displaced persons (IDPs) in Gaza
Some 40,000 people still displaced from the 2014 escalation of hostilities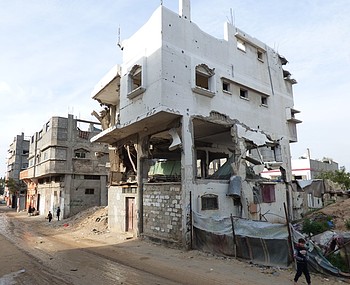 Despite significant progress in reconstruction, 7,700 Palestinian families, or about 40,000 people whose homes were destroyed or severely damaged during the 2014 hostilities, were still displaced in February 2017, down from over 16,000 families at the start of 2015. The greatest concern is for approximately 4,000 of these families who have not been allocated any funding for reconstruction and see no end in sight to their displacement.
Internally displaced persons (IDPs) in Gaza face a range of challenges and protection concerns. These were reflected in a comprehensive survey carried out by humanitarian partners, under OCHA coordination, in the second half of 2015. Concerns include overcrowding and lack of privacy, limited access to basic services, a decline in the quantity and diversity of food consumed, risk of gender-based violence, and exposure to weather extremes and unexploded ordnance. These factors exacerbate the vulnerability of certain groups, particularly female-headed households, children and persons with disabilities.
Over 60 per cent of IDP households currently stay in rented accommodation, according to a Shelter Cluster assessment; given the limited housing stock, it is believed that some of these families are in fact renting space in the homes of extended family. The remaining families reside in their damaged homes, with relatives, in pre-fabricated units, in makeshift shelters, or have other arrangements.
Temporary shelter cash assistance: a lifeline under threat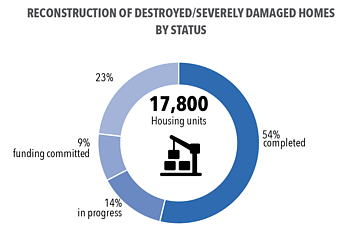 Temporary shelter cash assistance (TSCA) has been the primary form of assistance provided to eligible families to enable them to find accommodation until their homes are reconstructed or rehabilitated. The monthly TSCA provided since the end of the 2014 hostilities has been between US$200 and $250 per family, a substantially higher amount than in previous conflicts (approximately $150), as a result of the high demand and pressures on available housing.
The current TSCA caseload is estimated at 6,500-7,000 families, with UNRWA providing for refugee households (over 70 per cent of all IDPs) and UNDP for the rest; a small number are being supported in 2017 by the Palestinian Red Crescent Society (PCRS) through the Turkish Red Crescent.
Despite some delays, all refugee beneficiaries and approximately half of non-refugee beneficiaries received their full TSCA payments in 2016, while the other half of non-refugees received partial payments. By contrast, so far in 2017, no financial commitments have been given to support TSCA for non-refugees and less than a quarter of the required funds have been pledged for refugees to date.[1]
Beneficiaries have described TSCA as a lifeline enabling them to access accommodation that would be otherwise unaffordable and securing basic living conditions (see case study). An interruption in this assistance would increase the likelihood of debt accumulation and the adoption of negative coping mechanisms, including a return to damaged or unfinished homes and the subsequent negative impact on safety and living conditions. The uncertainty generated by funding gaps has a psychological toll and IDPs report anxiety and fear about being forced to relocate, not for the first time for the majority of IDPs. The survey referred to above documented that by the second half of 2015, the average IDP family had already moved 2.4 times since their initial displacement, while one quarter of families had moved four or more times.
A Leap of Faith: Cash Assistance and Reconstruction
Testimony gathered by UNDP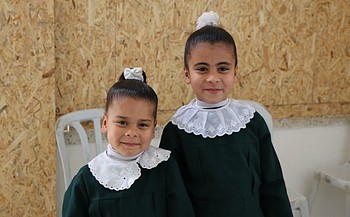 Afnan Al Ghofary, aged 29, lives in the Al Tofah area of Gaza City. A housewife and mother of three girls and a boy, Afnan used to live with her husband Mohammed in an apartment in his family's building until it was completely destroyed during the 2014 hostilities.
"It has been almost three years now since we lost our home, our memories and my children's first moments. Every day I wake up thinking it is a dream, but it is not. It is no longer my home," says Afnan.
Afnan's husband, Mohammad, has no steady income. He sometimes gets temporary work in job creation programmes or private businesses. It has been difficult for the family to cover their basic living costs, especially now that they also have to pay for the house they are renting.
"Our rent was covered by UNDP support for two years. Now we need NIS 700 every month to cover our rent. This has been going on since June 2016 when the funding stopped," Afnan explains. "I am aware of the political situation and delays in funding, but it is becoming much more difficult to meet the needs of my children and my family. We did not get a grant to reconstruct our home, even though my husband's family did. So, we are here with no cash assistance or hope to rebuild our home."
"Our rented home is not ideal. It lacks many basic amenities and it is not healthy for my children. We have to pay to repair things because the landlord is refusing to pay. I feel bad for my children; my daughters had two rooms in our old home, they were beautiful and full of colour, but now they all sleep together in one room. Every month when we pay the rent I pray it will be the last time. But the months go by with no change. I feel sorry for myself and for my husband who is doing his best to get a job so that we can have a dignified life, and for my children who have to walk a long distance to get to their school," Afnan said.
"I do not envy anyone, but I am jealous of families like my husband's who have the opportunity to go back to their homes. I know one thing: unless my home is rebuilt, I am just counting the days with no purpose. I really miss my home!"
* This section was contributed by the Shelter Cluster
---
[1] Depending on the Gaza operating environment and other funding inputs for totally demolished homes, these funding needs may change.