Emergency coordination and response systems reviewed and upgraded
The online Winter Storm portal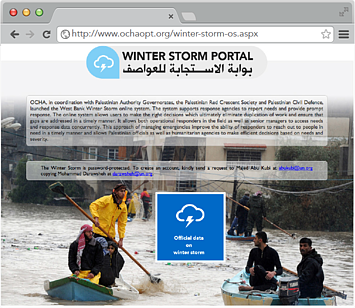 In advance of the upcoming winter season, and for the third consecutive year, OCHA upgraded and relaunched the West Bank Winter Storm online system in December 2015. This was accomplished in close coordination with various governorates of the Palestinian Authority, the Palestinian Red Crescent Society (PRCS) and Palestinian Civil Defense (PCD), and with the participation of humanitarian NGOs and UN agencies.
The system has been modified and updated based on the lessons learned from previous years, and was followed up with training provided by OCHA to PCD, PRCS and relevant staff in Palestinian governorates and municipalities. Presentations of the system have also been provided to the Inter-Cluster Coordination Group and are planned for members of the National Disaster Risk Management (DRM) Team.
The system supports the documentation and tracking of needs emerging from emergencies by the relevant agencies in a timely manner, alongside the response provided and outstanding gaps. This approach to the management of emergencies allows Palestinian officials and humanitarian agencies to make efficient decisions based on the scope and severity of needs.
In Gaza, a system built on the same platform is used as an initial joint assessment tracking platform. The Inter-Cluster Coordination Group is planning to review and discuss potential expansion of use of the platform into a fully integrated incident tracking and response mechanism.
The Inter-Agency Contingency Plan
OCHA established a Working Group composed of representatives of the main agencies and clusters to review and update the current Inter-Agency Contingency Plan (IACP) for the oPt. The review is expected to integrate considerations stemming from the increase in confrontations and violence in the West Bank since October 2015, as well as lessons learned from seasonal hazards such as the winter storms and floods of recent years.
In addition to updating different planning scenarios, the emergency coordination structure and composition has been reviewed, including roles and responsibilities on national and local levels in the coordination and response strategy. The Working Group benefited considerably from lessons learned from the establishment of the Emergency Operation (EOC) Room operated in Gaza during the 2014 hostilities, and plan to replicate it in the West Bank, including on a local level, for possible emergency operations.