Eight years after the 2008-2009 (Cast Lead) hostilities in Gaza: lack of accountability persists
Accountability for violations of international humanitarian law and human rights law by all sides during successive hostilities in Gaza is an urgent priority. Failure to ensure effective accountability for lives lost, homes destroyed and damage wrought fuels a culture of impunity that can lead to further violations. Eight years after the 2008-2009 (Cast Lead) hostilities in Gaza, victims are still bearing the consequences while lack of accountability persists.
No information is available about any investigations conducted by the Palestinian authorities on alleged violations by Palestinian armed groups in the 2008/09 hostilities. In Israel, the latest public figures show that at least 510 criminal complaints were submitted to the Israeli Military Advocate General by civil society organizations on behalf of victims of the 2008-2009 hostilities. Investigations were opened in 52 cases; only four cases resulted in an indictment and subsequent conviction. The highest sentence was seven and a half months imprisonment for a soldier convicted of stealing a credit card.
A total of 1,456 compensation claims were submitted to the Compensation Officer at the Israeli Ministry of Defence by civil society organizations on behalf of Palestinian victims, of which 100 civil cases were filed before Israeli courts seeking compensation for 620 victims. To date, only three claims (involving five people) have successfully obtained compensation. Ninety-one cases were dismissed due to legislative barriers, procedural issues and requests for prohibitive court guarantees. Six cases are still pending in the Israeli civil courts, with at least one of them set to be heard in March 2017.
Gaza 2008-2009 conflict: "Operation Cast Lead"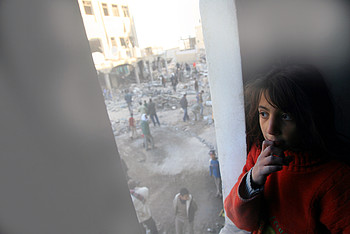 On 27 December 2008 Israel launched "Operation Cast Lead", which lasted until 18 January 2009. The uninterrupted airstrikes, artillery shelling and ground operations resulted in the killing of 1,383 Palestinians, including 333 children and 114 women, and the injury of over 5,300. About 30 per cent of those injured were estimated to suffer from some form of long-term impairment. More than 3,400 Palestinian families had their homes completely destroyed, with many suffering long–term displacement. During the hostilities, the firing of rockets and mortars by Palestinian armed groups towards Israel killed three Israeli civilians, injured some 180, and led to significant displacement of Israelis living within the range of fire. Ten Israeli soldiers were also killed during the hostilities, including four in a "friendly fire" incident.
The al-Daya Family: Multiple family members killed in air strike
On 6 January 2009, Israeli forces fired a projectile at a three-storey residential building belonging to Fayez Musbah al-Daya, located in the Az-Zaitoun neighborhood in eastern Gaza City. Twenty-two family members were killed, including six women and 12 children. An Israeli investigation concluded that the attack on the house was the result of "an operational error," and that the strike was aimed at a weapons storage facility located in a building next to the house. The investigation found that the IDF had fired warning shots to the roof of the Al-Daya residence. ("Conclusions of investigations into central claims and issues in Operation Cast Lead", 22 April 2009, annex C.) After the attack, the Palestinian Centre for Human Rights (PCHR) filed a tort case before the Central Court of Nazareth. The court dismissed the compensation case, although the Israeli army admitted that the al-Daya house had been struck by mistake as it was located next to a weapons cache, which was the intended target.
The UN Fact Finding Mission thoroughly examined the al-Daya case and found "a substantial failure of due diligence on the part of Israel" … which "constitutes a violation of the right to life as set out in Article 6 of the International Covenant on Civil and Political Rights, to which Israel is a party." The Mission concluded that Israel's investigation of the incident "lacked transparency and credibility." (Goldstone Report, paras. 864-866.)
A survivor's testimony
Interview with Mohammed Fayez Musbah al Daya, 19 February 2017, Gaza
"On 6 January 2009, I was returning home shortly after the morning prayer. The majority of my family - my father, mother, brothers, sisters, my pregnant wife and five children - were in the house. As I arrived home, an airstrike struck the house without any prior warning. I sustained minor injuries to my chest but managed to stand up.
Twenty-one of my family members were killed instantly. Another family member (Radwan Fayez Musbah al-Daya) sustained serious injuries and was pronounced dead three days later. The neighbours arrived and a bulldozer removed the rubble. We started to recover the bodies, some of whom were dismembered. We could not locate the bodies of my wife and five children. Their bodies may have melted as a result of the heat of the explosion. The bulldozer continued digging for three days until I found a hand with a ring that bore my name and my wife's name.
My other brother Nafez, who was staying with his parents-in-law, came to support me after this event. I could not bear to return to my neighbourhood and lived with some friends for nine months.
After a year, my brother convinced me to re-marry. I received US$150 per month in rental assistance from UNRWA for almost two years and my house was still not rebuilt. I agreed with my brothers to sell a house we inherited from my father and we managed to buy a new building for all of us with that money. My youngest brother moved to his apartment just two months before the 2014 conflict.
During the 2014 conflict, on 14 July (16 Ramadan), a warning missile struck the roof of our new house. We evacuated immediately and the house was struck by a large projectile just as the last person got out. I learned afterwards that the Israeli army had called my brother, who was at that time in al-Remal in western Gaza City, and told him to evacuate the house in ten minutes. My brother told them that he was away and they needed to give more time. The Israeli army told him that they would give a warning.
After the conflict, my house was assessed by UNRWA. Two of my brothers managed to build housing units on the same site as the destroyed house. Last year I started receiving allocations from a Kuwaiti grant to construct a new house. I don't want to rebuild on the site of the destroyed house, and in the next round of conflict the house will be hit again. I want to leave this neighbourhood.
I now have five children. We live in a 60m2 shop on the ground floor of my parent-in-law's house. Because of the damp, my children are always cold and sick, and often get eye infections. I have been visited by field workers; once they see my living conditions they feel sorry for my family and tell me no one could survive living in this house. I receive rental assistance ($150) from UNRWA. I use $100 for rent and the remaining for living expenses.
I was informed that the investigation into the 2009 incident has been closed and the compensation case was dismissed. I cannot understand why they killed my wife and my children. Why did they destroy my house in 2009 and again in 2014? What is their problem with the al-Daya family? I want to understand why they have done it. I cannot build another house in the same place. I no longer want to live in Az-Zaitoun neighbourhood."
* This article was contributed by OHCHR and PCHR.