Distributing food in vulnerable West Bank communities
An oPt Humanitarian Fund Success Story
Khaled and Hajar are married and live in the Palestinian Bedouin community of Abu Nuwwar, in the central West Bank. They have seven children, including five from Khaled's first marriage and two of their own. Khaled's first wife passed away, and so did his daughter, who had a rare, hereditary medical condition. Two other children, Yusuf and Ibrahim, suffer from the same illness, which requires close care, preventing the father from committing to one job.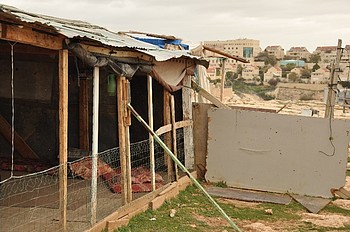 Abu Nuwar is one of dozens of Palestinian Bedouin communities in the central West Bank assessed to be at risk of forcible transfer because of a coercive environment that is exerted on them, including efforts to relocate them by the Israeli authorities, among other concerns. It is also one of 18 Palestinian Bedouin communities that are located in or next to the planned E1 settlement area, aimed at creating a continuous built-up area between Ma'ale Adummim settlement and East Jerusalem. The community is one of the most vulnerable to food insecurity in the area.
Khaled and Hajar's family, like others in Abu Nuwar, who are for the most part Palestine refugees, benefit from in-kind food distribution through a project implemented by UNRWA and the World Food Programme (WFP), with funding received through the Humanitarian Fund for the occupied Palestinian territory (oPt HF). The project specifically targets Bedouin and herder communities, by handing out food parcels with flour, chickpeas and olive oil every three months to their residents.
Following the suspension of previous aid programmes in Abu Nuwar, this has remained the sole emergency service in the community. Khaled told us that this food distribution gives him and Hajar respite in their daily life, alleviating some of the burden of worrying about food, and allowing them to devote their time and energies to tend to the medical needs and wellbeing of their children. "If the food distribution were suspended," he said, "I don't know how we would cope."
| | |
| --- | --- |
| Project name: | Multi-Sectoral Emergency Response to Vulnerable Communities |
| Cluster: | Food Security (32%), Health (68%) |
| Number of beneficiaries: | 139,790 |
| Benefitting communities: | Vulnerable communities across the West Bank |
| Allocation: | US$899,972 |
| Implementing partner: | UNRWA |
| Start year: | 2018 |
* This story was contributed by UNRWA.