Continuing access restrictions by the de facto authorities in Gaza add to humanitarian concerns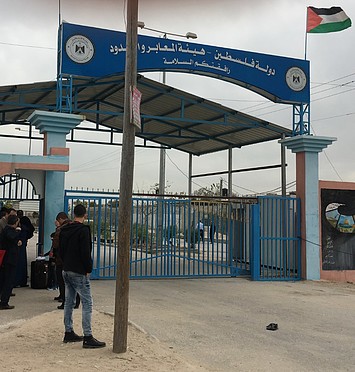 In the aftermath of the killing of a Hamas member on 24 March in Gaza City by unknown assailants, the Palestinian de facto authorities in Gaza are imposing new access restrictions, citing security reasons, which are negatively impacting already vulnerable sectors in Gaza. These restrictions are taking place before the upcoming Israeli national and religious holidays when the opening hours of the Israeli-controlled passenger and goods crossings are normally reduced.
Beginning on 26 March, the de facto authorities began limiting the entry and exit of people through the 'Arba-'Arba checkpoint - which controls access to the Erez Crossing between Gaza and Israel. Although entry was restored on the afternoon of 26 March for Gaza ID holders and the next morning for others, restrictions on exits via 'Arba-Arba remain in place. This has further reduced the already small number of Palestinians in Gaza permitted to leave through Erez due to pre-existing Israeli-imposed restrictions. The total volume of travelers passing through 'Arba-'Arba and Erez has declined significantly this week, given the uncertainty surrounding the possibility of departure. In this context, Gaza's main water and sanitation utility reported that the implementation of large infrastructure projects has been disrupted, as international consultants leading these projects have cancelled their visits.
The 'Arba-'Arba exit restrictions are particularly affecting patients who have been referred for medical treatment outside Gaza, primarily in East Jerusalem and Israel. On 26 March, none of the 71 patients approved by Israel was allowed to leave through 'Arba-'Arba. Restrictions were eased the following day for female patients, but male patients and their companions between 15 and 45 years of age continue to be denied passage. So far, according to the World Health Organization, 79 patients have missed their appointments. These patients will have to reschedule their appointments and operations, and re-start the lengthy permit application process with the Israeli authorities, raising concerns about possible deterioration in the medical condition of the most vulnerable patients. A temporary coordination mechanism that would allow priority cases to exit 'Arba-'Arba - particularly the male medical cases who fall within the restricted age category - is now reportedly being established.
The exit restrictions on 'Arba-'Arba are also impacting the access of business people and traders - the other major category of Palestinians in Gaza which Israel allows to leave through Erez, subject to permit approval - with virtually no exits recorded since 24 March.
The exit of international and local staff working for the United Nations and international organizations has also been reduced although some UN international staff have managed to leave through 'Arba-'Arba on a case-by-case basis. The exit of national UN staff and the national and expatriate staff of international organizations in Gaza continues to be restricted.
Despite the general exit ban, Palestinians in Gaza visiting their relatives in Israeli prisons are been allowed through 'Arba-'Arba, with the exception of males between 15 and 45 years of age.
The Rafah Crossing between Egypt and Gaza has remained closed by the Egyptian authorities during this period, as has largely been the case since October 2014. The Israeli-controlled Kerem Shalom Commercial Crossing for goods continues to operate without disruption.
The de facto authorities are also preventing fishermen from going out to sea, further undermining fishing livelihoods affected by the long-term six nautical mile access limit imposed by Israel.