Posted on
8 February 2018
Addressing gender-based violence in the Gaza Strip
According to UN Women, gender-based violence (GBV) in the oPt has assumed a higher profile in recent years. In 2010 the Palestinian Central Bureau of Statistics (PCBS) undertook a survey which revealed that levels of domestic violence had declined in the West Bank compared with 2005, but had increased in the Gaza Strip. The rise in GBV in Gaza was attributed to the deteriorating humanitarian situation following the Israeli blockade imposed after the Hamas takeover in 2007, and the devastating impact of the 'Cast Lead' hostilities in December 2008-January 2009.
Interventions by the international community to combat GBV have focused on supporting local non-governmental organizations (NGOs). Fifteen local NGOs and 40 community-based organizations (CBOs) provide GBV services in Gaza and are loosely organized through two platforms: the al Amal coalition of NGOs and al Wessal network of CBOs. This infrastructure has evolved in a haphazard and uncoordinated manner, reflecting both the political and programmatic priorities of international donors responding in an ad hoc manner to local needs in the absence of a master strategy. This has been exacerbated by the internal division between the West Bank and Gaza, and by the lack of internal strategic coordination among NGOs themselves in Gaza. Since the creation of the Palestinian National Committee to Combat Violence against Women in 2008, followed by the 2011 adoption of the National Strategy to Combat Violence against Women by the Palestinian Authority's Ministerial Committee, donor initiatives to combat violence against women in the West Bank have had to align themselves with Palestinian national priorities, which is still not the case in Gaza.[1]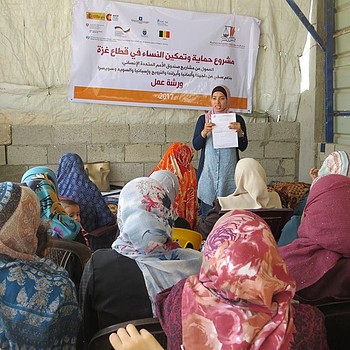 Gender Mainstreaming is a priority in the 2018-2020 Humanitarian Response Plan (HRP), prepared by the humanitarian community in the oPt (see here). This will be reflected in the way in which humanitarian assistance to households is delivered, including through responses that specifically address gender based vulnerabilities; assistance eligibility criteria that do not discriminate against women who may not otherwise have access; and monitoring beneficiaries of humanitarian assistance by sex, when applicable.
A new report shows impoverishment a central driver of GBV in Gaza
In December 2017, UN Women launched a report on GBV services in Gaza based on research undertaken over an eight-month period in 2016 and 2017. The research outlines the available multi-sectoral responses to GBV, the geographic distribution of the services and the challenges faced by organizations responding to GBV. The ultimate aim of the research was to uncover the mechanisms through which women have attempted to find solutions to their abusive situation and to identify the roles which formal service providers have played in supporting them.
The findings highlight that impoverishment and the absence of economic opportunities for breadwinners and their households are central drivers of GBV in Gaza. Poverty is also linked to the critical issue of overcrowded households, with women survivors often citing living in the extended family households of their spouses as compounding their abuse. Factors that enable situations of abuse to continue include: perpetrators rarely (if ever) face legal, criminal or social penalties for their behaviour; violence against women in the context of marriage is not considered a crime in civil law and salient family law in Gaza; and dominant social norms prioritize the preservation of a marriage regardless of its costs to victims.
The report makes recommendations to address the lack of a collective strategy to tackle GVB in Gaza. Problems include the total absence of formal training in GBV sensitization, lack of professional capacity building development of protocols and systems of care, protection and justice for survivors throughout the government sector, and gaps in GBV services provided by NGOs. The report proposes greater emphasis on income generation support programming for GBV victims and for donors to review the balance of support for GBV across all sectors.
Funding support for GBV survivors
During 2017, the oPt Humanitarian Fund (HF) funded three projects that target GBV survivors in the areas near the fence across the Gaza Strip as well as in some refugee camps. Two of the projects were implemented by local NGOs (completed) and one by an international NGO (ongoing) working in Gaza. The projects, which aimed at alleviating the suffering of GBV survivors of multiple traumatic events generated from the latest conflict in 2014, the prolonged blockade on Gaza, the dire socio-economic situation and domestic violence, provided access for survivors to specialized facilities and services. The projects so far have supported some 12,800 people, 77 per cent of whom were women, mainly those heading households, disabled, internally displaced and other victims of GBV.
Case study: A new sense of meaning in life, self-respect and hope
Maysa, a 37- year-old married woman, is a mother of children aged from two to 15. She was married at the age of 20 to a non-relative who she chose rather than marrying a cousin in a traditional arrangement. It was only upon marriage that she discovered that her husband was mentally ill and had been receiving treatment from the government mental health clinic. They lived with his large extended family, occupying one room and depending mainly on social welfare.
Within a week of being married, her husband attacked her with a screwdriver. While episodes of extremely violent abuse, one resulting in a miscarriage, continued throughout their marriage, the immediate problem for Maysa was the abusive context of living with her husband's family. They treated her like a servant and constantly criticized her, without offering support or protection from her abusive husband. Maysa believed that she could have handled her husband's abuse and its effects on her and her children better if her family had lived independently.
During the 2014 hostilities, Maysa moved with her family out of her in-laws' house after a brother-in-law violently beat one of her children. Still dependent on social welfare, all she could afford then was to move all 10 of them, including her husband, into the storeroom of a shop rented from her husband's relative. The only reason that prevented her from seeking divorce earlier was her fear of losing the children to her abusive husband and his family.
Once the family lived on their own, Maysa's point of entry to formal GBV assistance was as a result of seeking humanitarian aid at a local charity. Following the 2014 hostilities, she and her sister went to a psychosocial activity held at a CBO in their community. The counsellor identified Maysa as suffering from abuse and connected her with an organization that offers support to GBV victims and survivors.
Maysa describes the support and treatment she received from the organization as literally lifesaving, given that she had contemplated suicide on a number of occasions. She described the interaction by staff at the organization as "caring" and making her feel "secure". When asked about the particular help she had received, Maysa emphasized livelihood support, including cash assistance, training in craft production and small business skills. She also emphasized shelter assistance which helped the family build a small house and has helped on occasion to cover her husband's medication. Maysa highlighted the positive impact of the psychosocial support she received that included: group counselling, home visits, individual counselling and the general therapeutic effects of craftwork. She described how receiving support has renewed her sense of meaning in life, self-respect and hope.
---
[1] UN Women (2017), Navigating Through Shattered Paths: NGO Service Providers and Women Survivors of Gender-based Violence: An Assessment of GBV Services in Gaza, pp. 7-8.