Wave of violence continues at reduced level
Compared with the last quarter of 2015, the frequency and intensity of protests and clashes declined in early 2016, alongside a moderate fall in attacks by Palestinian on Israelis civilians and security forces.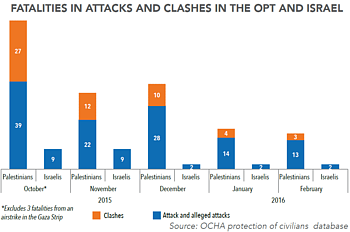 Fewer attacks by Palestinians
In the first two months of 2016, 28 Palestinian attacks and alleged attacks were recorded against Israeli forces and civilians, mainly settlers, that resulted in casualties. Nearly 80 per cent of these incidents were stabbings or attempted stabbings (or allegations), while the rest involved incidents of car ramming and shooting.[1] On average, this represents a 65 percent decrease compared to the number of similar incidents during the last quarter of 2015. A similar trend was highlighted by the Israel Security Agency (ISA).[2]
Attacks in 2016 resulted in the killing of four Israelis[3] and the injury of another 16, while 21 of the Palestinian suspected perpetrators were shot and killed on the spot. None of the perpetrators or alleged perpetrators reportedly belonged to any faction or armed group, although in two cases (both involving shooting) the perpetrators were members of the Palestinian security forces reportedly acting on their own. The involvement of Palestinian children in attacks against Israelis continues to be of concern: over 40 per cent of Palestinian fatalities in this context were children (9 of 21) compared to less than 20 per cent in the previous three months (19 of 119).
Of note, none of the attacks carried out in January and February by West Bank Palestinians took place in Israel,[4] in contrast with 18 incidents in the previous three months. A growing number of incidents so far this year occurred within or next to Israeli settlements.
Overall, between 1 October 2015 and the end of February 2016, 116 Palestinians, including 28 children, and 24 Israelis were killed in attacks by West Bank Palestinians, alleged attacks or responses to them by Israeli forces.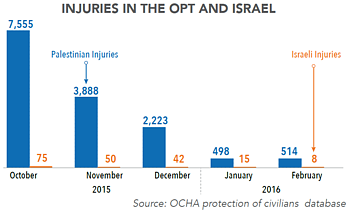 Protests and clashes decline sharply
The decline in the volume of Palestinian casualties during clashes with Israeli forces during January and February was even more pronounced. These included seven deaths and 1,053 injuries, compared with 49 deaths and some 13,600 injuries in October-December 2015. Although clashes along the perimeter fence surrounding Gaza continued into 2016, none of them resulted in fatalities, compared with 23 deaths recorded in the previous three months. Of the injuries recorded this year, five per cent were in the Gaza Strip and the rest were in the West Bank.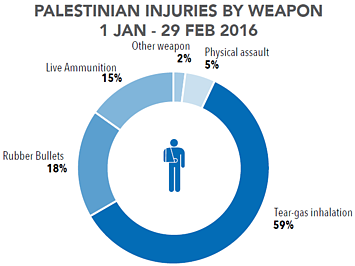 Most of the clashes in 2016 erupted during protests to demand the release of bodies of perpetrators of attacks held by Israel, in solidarity with prisoners on hunger strike, in the course of Israeli search and arrest operations, and protests against the occupation in general.
Nearly 60 per cent of injuries in 2016 involved tear gas inhalation requiring medical treatment, almost 18 per cent were hit by rubber bullets and 15 per cent by live ammunition. This distribution is approximately the same as in the last quarter of 2015, despite the decline in overall numbers.
Ongoing protection concerns
The ongoing targeting of Israeli civilians by Palestinians, including in knife attacks, shootings and ramming, remains a major protection concern. As stressed by the UN Special Coordinator to the Peace Process, Nikolay Mladenov, in his monthly briefing to the Security Council, the "glorification" of these attacks by some Palestinian factions is a major aggravating factor.
The response of Israeli forces to some of these incidents has also raised concern, particularly in regard to the possible use of excessive force. In his latest report to the Human Rights Council in January 2016, the High Commissioner for Human Rights stated that "some of these responses strongly suggest unlawful killings, including possible extrajudicial executions".[5] Senior Israeli officials, including the IDF Chief of Staff, have also cautioned against the use excessive firepower in response to attacks, particularly against children.[6]
The High Commissioner also pointed out that "the extensive, often unwarranted, use of firearms by Israeli security forces in law enforcement operations… raises serious questions as to whether the rules of engagement, which are confidential, are in compliance with international law and whether such rules are adhered to in practice".
Although comprehensive official figures were not available, information from the media and human rights organizations suggests that allegations of excessive use of force have not led to the opening of investigations in the majority of cases, reinforcing long-standing concerns about a lack of accountability. The High Commissioner has urged the Israeli authorities to "conduct prompt, thorough, effective, independent and impartial investigations into all incidents of the use of force leading to death or injury, ensuring they are subject to public scrutiny".
---