Strengthening resilience through water, sanitation and hygiene interventions
An oPt Humanitarian Fund Success Story
Ismael Radi is a resident of Al Mughraqa (Abu Middein), in the Gaza Strip. He is married and has five children, three girls and two boys. As the only breadwinner for his family, he struggles to make ends meet, with no regular source of income. For a long time, the family had limited access to water supplies and poor access to the sewage network, resulting in unbearable water, sanitation and hygiene conditions at home. They suffered from bad odours and rodents, and had to spend a lot of money on cesspit vacuuming.
"I was constantly worried about how to cover the cost for cesspit evacuation," he explains. "I couldn't afford it and it was causing many sewage floods… We were embarrassed whenever our neighbours saw that the cesspits had flooded."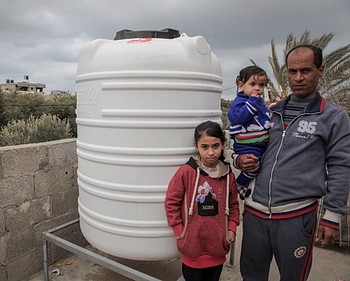 Their case is not unique. For years, essential services, livelihoods and homes across the Gaza Strip have been constrained by the ongoing electricity crisis, exposing many to health risks. The limited operation of water pumps and desalination plants has led to a decline in water consumption and hygiene standards, while the shortening or suspension of sewage treatment cycles has added to sea pollution.
In 2018, Ismael was selected as a beneficiary of a project implemented by Gruppo di volontariato civile (GVC), in partnership with the Rural Women Development Society, aimed at strengthening the resilience of 93,440 people through comprehensive emergency water, sanitation and hygiene interventions in the most vulnerable areas of the Gaza Strip. With funding received through the Humanitarian Fund for the occupied Palestinian territory (oPt HF), the project improved families' access to domestic water supply and storage as well as to wastewater services, and raised people's hygiene awareness.
Ismael's house was connected to a sewage network, to prevent wastewater floods, and was provided with a water tank. The family also took part in hygiene awareness programmes and received hygiene supplies.
"Now, my children can enjoy the availability of water," Ismael concluded with a smile while signalling a thumbs-up.
| | |
| --- | --- |
| Project name: | Strengthening resilience through comprehensive emergency Water, Sanitation and Hygiene interventions in the most vulnerable areas of the Gaza Strip |
| Cluster: | Water, Sanitation and Hygiene |
| Number of beneficiaries: | 93,440 |
| Benefitting communities: | Al Bureij Camp, An Nuseirat Camp, Mughraqa (Abu Middein) |
| Allocation: | US$257,500 |
| Implementing partner: | Gruppo di volontariato civile |
| Start year: | 2018 |
* This story was contributed by GVC (Gruppo di volontariato civile)