Rafah border crossing continues to be largely closed for the sixth month in a row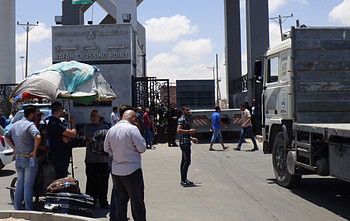 Medical cases especially affected by extended closure
The Rafah crossing between the Gaza Strip and Egypt has remained closed for the whole of April. The Border and Crossing Authority in Gaza estimates that over 30,000 people registered as humanitarian cases are on a waiting list, including cases of individuals seeking medical treatment and education abroad.
Due to longstanding, blockade-related restrictions on the Israeli-controlled Erez crossing, the Rafah crossing became the primary exit point to the outside world in recent years for Palestinians from Gaza. However, severe restrictions have been imposed by the Egyptian authorities from June 2013 onwards in the context of political uncertainty and military operations in northern Sinai.
During the second half of 2013 the crossing was closed for a total of 97 days, compared with five days during the first half of the year; the number of Palestinians crossing declined by 28 per cent compared with 2012. In 2014, the crossing opened for only 158 days and less than 100,000 people traversed the crossing. Following an attack on 24 October 2014 in the Sinai Peninsula in which over 30 Egyptian military personnel were killed, Rafah was closed for the remainder of the year, with a few exceptional openings. In 2015, up to the end of April, Rafah had opened for only five days with only around 5,000 people crossing.