The Monthly Humanitarian Bulletin | February 2014
UNRWA and WFP face critical funding shortfalls that may force them to reduce food rations or cut the number of beneficiaries in the Gaza Strip by as early as July 2014. The frequency of Palestinian rocket firing on Israel and Israeli airstrikes in the Gaza Strip increased sharply in the first two months of 2014 compared with previous months. The International Committee of the Red Cross announced the suspension of the distribution of tents in the Jordan Valley to families affected by the demolition of their homes due to Israeli obstructions.
In this document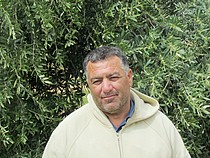 Since 2004 in the northern West Bank, Palestinians have been obliged to obtain permits from the Israeli authorities to access land between the Barrier and the Green Line: the 'Seam Zone.' To apply for or renew a permit, applicants must satisfy the security considerations necessary for all Israeli-issued permits and also submit valid ownership or land taxation documents to prove a 'connection to the land'. Although reliable data are difficult to obtain, the approval rate for Barrier permits for the whole of 2013 varied from approximately 33 per cent in Salfit governorate (590 out of 1,809 applications); 46 per cent in Tulkarm governorate (4,915 out of 10,630 applications); to 66 per cent in Qalqiliya governorate (9,935 out of 14,914 applications). These data are consistent with figures collected by OCHA over the last three years which show an approximately 50 percent rate of permit approval/rejection in the northern West Bank.