Increased restrictions on the movement of humanitarian staff out of gaza
In recent months, citing security concerns, the Israeli authorities, and to a lesser extent Hamas, have tightened restrictions on the movement of Palestinian humanitarian staff out of Gaza. Measures by the Israeli authorities include an increase in the processing time for exit permits, a rise in denials and one-year bans, restrictions on the type of items allowed to be taken out of Gaza, and new crossing procedures at the vehicle terminal. The Hamas authorities have established a new registration point at the entrance to Gaza. These measures have increased uncertainty, delays and logistical impediments, and have a negative impact on humanitarian operations. The UN continues to conduct negotiations with all relevant actors in Israel and Gaza to alleviate these challenges.
Permit processing
Israeli-issued permits have long posed a key challenge for Gaza-based staff of both international NGOs and UN agencies. Over the past 12 months, there has been a dramatic increase in the processing time for permit applications to exit Gaza to Israel and the West Bank from 14 to 55 working days. The processing time for applications for a one-day permit to travel to Jordan via Israel is now 70 working days. Along with this negative trend, the duration of security clearance necessary to access approved permits has been extended from six to nine months.
Percentage of Permits status by Month of travel 2018 Gaza ID holders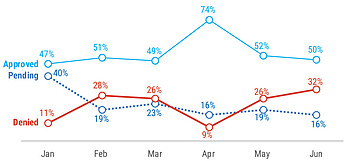 During 2018, there has been an unprecedented spike in the number of UN and INGO staff banned from reapplying for a period of one year following rejection of their initial application. Approximately 40 UN national staff received a ban in 2017, but during the first six months of 2018 an additional 70 UN staff and a similar number of INGO staff were banned, effectively preventing these staff from implementing any mission outside of Gaza for a year. Following UN requests to the Israeli authorities, the bans on 15 UN staff members and three INGO personnel were subsequently removed. As the reason for the imposition or lifting of these bans is rarely stated, the process is perceived as arbitrary. At the time of writing, a total of 82 UN staff members and 67 INGO personnel are banned from reapplying for a permit to exit Gaza.
The extended processing times and increased bans generate planning and logistical challenges, including senior national staff being unable to attend donor meetings in East Jerusalem or the rest of the West Bank, and undermining critical fundraising efforts.
Crossing restrictions
Since August 2017, the authorities at the Erez crossing have introduced new restrictions on items that Palestinians, including UN and INGO national staff, are allowed to carry when they exit Gaza through the pedestrian terminal. These include a ban on reinforced luggage (luggage with wheels or a frame), toiletries, and laptops and other electronic equipment, except for mobile phones.
The restrictions on laptops and electronic devices are especially problematic and create logistical challenges, particularly for senior staff engaged in finance, IT and programme monitoring activities in Gaza as they have to find alternative equipment to work with once they arrive at their destination.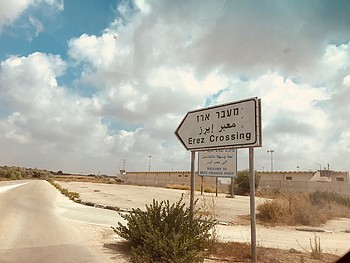 New vehicle crossing procedures
New security measures introduced at the end of March 2018 by the Israeli authorities at the vehicle terminal of Erez crossing have increased delays and waiting times. These include searches of UN and diplomatic vehicles by opening all the doors for sniffer dog inspections; the removal, scanning and search of UN property; and the introduction of a body x-ray scanner.
These measures deviate from a protocol agreed upon in 2016 and are largely incompatible with the 1946 Convention on the Privileges & Immunities of the United Nations, to which Israel is a party without reservation.
Following recent negotiations, the Israeli authorities allowed properly marked UN pouches to leave Gaza without being removed from the UN vehicles or being subject to x-ray or search. The UN is continuing to conduct negotiations regarding the remaining problematic procedures.
Hamas registration point
Until November 2017 Hamas maintained a checkpoint on the road leading to the Erez crossing (known as Arba-arba) where individuals were stopped and checked when entering or departing Gaza. Following a Fatah-Hamas reconciliation agreement, management of this checkpoint was transferred to the Palestinian Authority to allow for easier movement in and out of Gaza.
In recent months, Hamas has returned to the area and established a new checkpoint south of Arba-arba, gradually reinstating the procedures and restrictions implemented prior to November 2017. Hamas currently requires staff from international organizations to register prior to and upon entry to Gaza, imposes restrictions on the use of INGO vehicles and sporadically questions staff. These challenges are compounded by lack of clarity on the requirements and procedures, which generates uncertainty.