Humanitarian Coordinator warns of worsened crisis in Gaza following new import and export restrictions
Today, the Humanitarian Coordinator for the occupied Palestinian territory, Mr. Jamie McGoldrick, visited the Gaza Strip and called for urgent measures to prevent further deterioration in the humanitarian situation there, following intensified movement restrictions.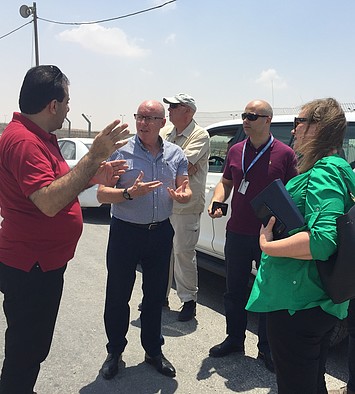 "As events over the weekend demonstrate, the situation in Gaza is extremely precarious," said Mr. McGoldrick. "I am deeply concerned about the imposition of further restrictions at Kerem Shalom, which is the lifeline for Gaza's population. Should they continue, these additional restrictions risk triggering a dramatic deterioration in an already fragile situation and desperate humanitarian conditions, particularly for the health sector."
New restrictions imposed by the Israeli authorities on 9 July, and further increased yesterday 16 July, prohibit the entry of goods except medical and food supplies; prohibit the exit of all goods; and restrict the fishing area along the Gaza coast to three nautical miles. According to the Israeli authorities, the measures were adopted in response to the launching of incendiary kites and balloons from Gaza towards Israel, which have resulted in over 750 fires that have burned more than 7, 000 acres of land in Israel.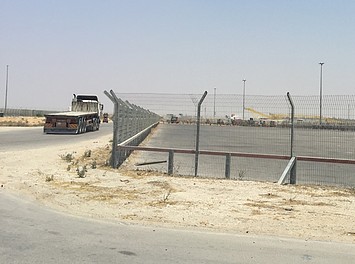 Of particular concern is the impact that shortfalls in fuel will have on the provision of critical health, water and sanitation services in Gaza. With electricity cuts up to 20 hours per day, over 220 health and WASH facilities in the Gaza Strip depend on donor-funded emergency fuel to power back-up generators to deliver essential services. WASH facilities currently have only a seven to 10-day supply, while health facilities are down to less than seven days of emergency fuel supplies. US$4.5 million in funding is urgently needed for emergency fuel, which runs out in early August.
These developments come against the backdrop of a worrying escalation in hostilities in recent days; some 15,000 Palestinian injuries since 30 March in the context of demonstrations; a health system on the verge of collapse; and an 11-year humanitarian crisis created by an Israeli blockade that has raised concerns over collective punishment and an internal Palestinian political divide. Simultaneously, historically low levels of funding, along with the unprecedented financial crisis facing UNRWA, leave humanitarian partners ill positioned to meet increasing needs or responding to any further deterioration. At present, the humanitarian appeal for the oPt, 70 per cent of which targets Gaza, is only 23 per cent funded.
"We are steps away from a disastrous deterioration, with potential broad impacts not only on Palestinians in Gaza, but the region," said Mr. McGoldrick. "Everyone with the ability to improve the situation must take a step back, prevent further escalation and reduce the suffering of ordinary Palestinians in Gaza."
Background
On 16 July, the Israeli authorities announced that they would restrict the entry into the Gaza Strip of fuel and cooking gas through Kerem Shalom crossing, the only operational commercial crossing between Gaza and the outside world. The import of medical and food supplies may be approved on an individual basis. The restrictions follow the imposition of a new set of severe restrictions by the Israeli authorities on 9 July, wherein only food, medical supplies, animal fodder, livestock and fuels would be allowed into Gaza via Kerem Shalom, without quantity restrictions. The entry of all other items, including building materials, furniture, wood, electronics and fabric, was halted, as was the exit of all goods.
Also on 16 July, the Government of Israel announced a reduction in the permissible fishing zone from six to three nautical miles, preventing fishermen from accessing 85 per cent of the fishing areas agreed for Gaza under the Oslo Agreements, with direct impact on some 50,000 Palestinians who rely on fishing for their livelihood. This followed the 9 July termination of a previous extension of the fishing area along the southern coast of Gaza, from six to nine nautical miles.
Since the imposition of these restrictions, on average, around 192 truckloads carrying the permitted items have been allowed through each day. This amounts to 46 per cent of the daily average of trucks that entered during the first half of 2018.