Humanitarian Coordinator calls for protection of Palestinian demonstrators in Gaza alongside support for urgent humanitarian needs
The Humanitarian Coordinator, Mr. Jamie McGoldrick, today called for the protection of Palestinian demonstrators and for urgent funding to meet critical humanitarian needs that have been generated by the massive rise in Palestinian casualties in Gaza since 30 March.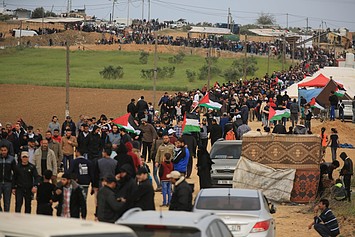 "The current surge in humanitarian needs is a crisis on top of a catastrophe," said Mr. McGoldrick. "As we approach another Friday of demonstrations near the perimeter fence between Gaza and Israel, it is critical that the Israeli authorities exercise the utmost restraint in the use of force for law enforcement operations, in line with their obligations under international law."
Humanitarian partners urgently need US$ 5.3 million in funding to meet emerging health, psycho-social and protection needs until 31 May 2018. These funds are required to enable the deployment of specialized medical teams to conduct complex, lifesaving surgeries; for medicines to prevent avoidable death or disability; to allow blood banks to immediately increase their capacity to cope with the high volume of trauma casualties, among a range of other critical health needs. Funding is also required to ensure that victims of violence and their families receive essential mental health and psycho-social support and to support organizations monitoring, verifying and documenting possible protection violations.
"Gaza's essential service providers simply do not have the capacity, at present, to cope with the current situation" said Mr. McGoldrick. "The humanitarian community stands ready to support the State of Palestine in meeting the immense health needs of Palestinians in Gaza, and ensuring that vital protection and mental health support is available."
Background
Since 30 March 2018, the Gaza Strip has witnessed a significant increase in Palestinian casualties in the context of mass demonstrations taking place along Israel's perimeter fence with Gaza. The demonstrations have occurred as part of the 'Great March of Return', a series of mass protests, expected to continue up to 15 May. The large number of casualties among unarmed demonstrators, including a high percentage of demonstrators hit by live ammunition, has raised concerns about excessive use of force. A number of healthcare staff have also been injured and medical assets have been damaged by Israeli fire. The Gaza health system, already on the verge of collapse following years of blockade, internal Palestinian political divisions and recurrent escalations of hostility, is struggling to cope with the mass influx of casualties.