Posted on
15 December 2017
Further improvement in Gaza's agricultural trade amid soaring unemployment
November marked the beginning of the peak season for the export of high-value cash crops such as strawberries. Growth in agricultural trade from the Gaza Strip in 2017 is encouraging news within an economic context characterized by sluggish growth and unemployment peaking at 46.6 per cent in the third quarter of 2017.
Agricultural exports from Gaza have improved significantly during the past two years following the lifting of the Israeli ban on the marketing of goods from Gaza to the West Bank (with the exception of potatoes), and a monthly export quota of 50 tons of eggplants and 350 tons of tomatoes to Israel, introduced after the 2014 ceasefire.
Revenues from the sale of Gaza agricultural products outside the Strip reached a record level of US$18.2 million in November 2017. This is above the average of $15.6 million per year recorded over the period 1996 to 2007, prior to the imposition of the blockade.
The bulk of the increase in sales during 2017 was recorded from sales to the West Bank (83 per cent growth), while exports to Jordan and Israel increased by 21 and 12 per cent respectively. Jordan has been a key market for Gazan potatoes and imported 2,236 tons compared with only 420 tons in 2016. The EU market for Gazan dates commenced in November 2017 when around 20 tons of dates were exported to Germany.
On 23 November 2017, the first shipment of 1.2 tons of strawberries left Gaza for the West Bank. According to the Ministry of Agriculture, 908 dunums of strawberries were cultivated this season, an increase of 65 per cent compared with the 2016-17 season. As a result, total production is expected to reach 2,800 tons. Expansion in the area of land planted has been encouraged by the positive results of strawberry exports in 2016-17 following the removal of the restrictions imposed by the Israeli authorities during the 2014 and 2015 seasons. Exports are expected to follow last season's distribution patterns (2016-2017) when some 79 per cent of strawberry production was traded to the West Bank, 14 per cent to Europe and nearly 8 per cent to Russia.
Revenues from agricutural trade from Gaza in millions of US$ (Jan-Nov)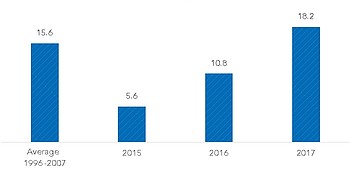 Total revenues from external sales in January-November 2017 were over 60 per cent higher than in the same period of 2016, when revenues increased by 102% compared with 2015. Growth during these years is mainly due to the larger quantities traded, and to a lesser extent to increases in the sale price.[1]
Despite overall growth, there were significant fluctuations during 2017: trade grew very fast between January and May 2017 versus the same period in 2016, slowed down in the period from June to September, and resumed growth in October and November (compared with the same months in 2016). Although detailed information on production costs is not available, it is likely that the limited availability of electricity was a major factor in the slowdown of exports during the summer period. Similarly, available information does not allow for analysis of how the increased revenues from agricultural trade were distributed between traders and farmers.
Accounting for 4.5 per cent of the Gaza Strip's GDP[2] and employing 5.8 per cent of its workforce,[3] agriculture remains a key sector of the Gazan economy that could contribute to reducing high unemployment and food insecurity. The potential of this sector could be boosted by a range of measures to improve the competitiveness of Gazan produce in the West Bank and international markets, including:
Increasing the electricity supply needed to operate irrigation systems and expand cold storage capacity;
Simplify and streamline border controls for products exported to all destinations, including reducing waiting times and providing shaded areas for produce at the Kerem Shalom crossings;
Improving access to agricultural inputs such as fertilizers and irrigation pipes;
Increasing the height of permitted cargo pallets from 1.6 to 1.9 metres in line with international standards;
Exports/transfers in 2017 by type in US$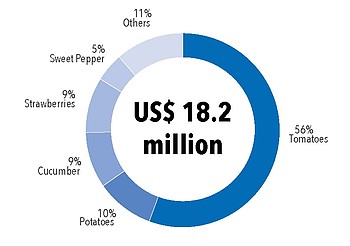 * This section was contributed by FAO.
---
[1] The value of exports increased by 29 per cent in 2016 over 2015, while in 2017 the unit export value increased only marginally by 4 per cent over 2016.
[2] Palestinian Central Bureau of Statistics, 2016. National Accounts at Current and Constant Prices, 2015. Ramallah – Palestine.
[3] Palestinian Central Bureau of Statistics, 2017. Labour Force Survey: Annual Report: 2017. Ramallah - Palestine.