Further decline in demolitions and related displacement in Area C and East Jerusalem
Village in southern Hebron at heightened risk of forced displacement
The number of Palestinian-owned structures demolished or dismantled and seized by the Israeli authorities in the West Bank declined in May for the second consecutive month. Overall, a total of 22 structures were targeted, affecting 267 persons, but not resulting in any displacement.
Eighteen of the affected structures were located in Area C and supported people's livelihoods, including three water cisterns, two water networks, one greenhouse, and six commercial structures. Of the eight affected communities in Area C, one is a Bedouin/ herder community and the others are villages. The remaining four structures demolished in May were houses under construction in the Ras al Amud and Silwan neighborhoods of East Jerusalem.
Four of the structures affected this month were funded by international donors. In the village of Habla (Qalqiliya), in an area isolated by the Barrier, the Israeli authorities seized at least 3,000 metres of water irrigation pipes (counted as one structure) donated to replace old, leaking pipes. Another incident involved the dismantlement and seizure of two donor-funded water networks serving five households in the Palestinian Bedouin community of Jiftlik Abu al Ajaj in the Jordan Valley. The fourth structure was an 800-metre long agricultural fence surrounding 11 dunums of land, destroyed in the village of Husan (Bethlehem), affecting a family of seven, including three children.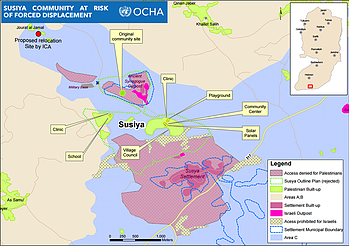 In May, the Israeli High Court of Justice rejected a request for an interim injunction to freeze the implementation of outstanding demolition orders in the village of Susiya, in the southern Hebron governorate, pending a ruling on the residents' petition to consider alternative planning. A total of 170 structures located entirely in Area C in Susiya, approximately half of them funded by international donors, have such demolition orders that could be implemented at any moment. The Israeli authorities recently expressed their intention to "relocate" this community to a nearby site, raising concerns about forcible transfer.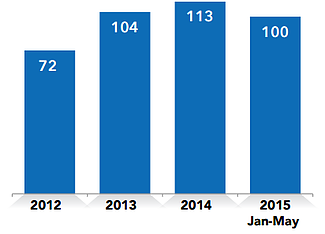 Between January and May 2015, the Israeli authorities have demolished or dismantled and seized a total of 239 Palestinian homes and livelihood structures. This is a slight decrease (7 per cent) compared with the equivalent period in 2014. There has been a significant decrease in the number of people displaced as a result of demolitions (260 vs 629 persons) due to greater targeting of livelihood-related structures in 2015 rather than residential structures. As in previous years, the majority of this year's demolitions took place in Area C of the West Bank, mainly in Tubas governorate (86 structures), followed by Jericho (61), Nablus (56) and Jerusalem governorates (43). A third of the structures affected this year were located in eleven herding communities located within or adjacent to areas closed for military training, or "firing zones".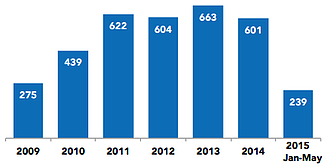 Since the beginning of 2015, the Israeli authorities have demolished or removed 57 donor-funded structures, a decline of 30 percent from the number of donor-funded structures targeted during the equivalent period in 2014 (81 structures). On the other hand, at least 100 donor-funded structures across Area C have been served with demolition, stop-work or eviction orders since the beginning of 2015, nearly 90 per cent of the number of structures targeted with similar orders in all of 2014 (113 structures).