Emergency rehabilitation of agricultural assets in southern Gaza
An oPt Humanitarian Fund success story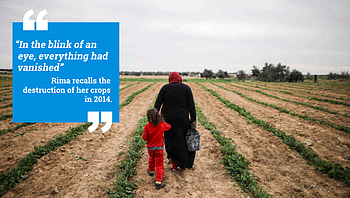 The escalation of hostilities in Gaza in 2014 had significant consequences for local agriculture, where loss of productive land and assets, coupled with a lack of financial capacity to cover production costs, led Gaza's agricultural sector to decline by 31per cent from 2014. Since 2017, the ongoing electricity crisis, combined with increased lack of access to quality water resources, further weakened the agricultural sector in the Gaza Strip, exacerbating farmers' vulnerabilities.
Rima lives in Shokat as-Sufi, a neighbourhood in the Rafah governorate, in the southern Gaza Strip. Her land is located a few meters away from the fence between Gaza and Israel, in the Access Restricted Area, where farmers face difficulties in cultivating their lands.
Before the 2014 Gaza escalation, Rima was living in precarious conditions; due to her husband's disabilities, she was the sole breadwinner for her family of nine children, and she contracted numerous debts while struggling to cultivate her land. In the wake of the escalation in Gaza, Rima had just planted onions and spinach, hoping for good crops to clear her debts and feed her family. The escalations forced her and her family to flee their land, hoping to return within a few days with limited damage. Instead, when they returned two months later, a grim spectacle awaited: water tanks, irrigation and electricity lines had been destroyed, and her crops had perished. For years, she was unable to recover, both financially and psychologically.
In 2017, thanks to support from the Humanitarian Fund, the Agency for Technical Cooperation and Development (ACTED), and the Arab Center for Agriculture Development (ACAD) restored productive capacity and rehabilitated land for over 1,600 vulnerable farmers in the Gaza Strip, and helped Rima to recover her land by building new water carrying lines and providing her with seeds to cultivate new crops. Her land is now flourishing with rows of fresh green peas, which she sells at a good price on the local market, or uses to cook dishes with tomato and rice for her family.
Click here to access the full report of the oPt Humanitarian Fund for 2017 (PDF)