Education undermined by deteriorating humanitarian situation in Gaza
In the Gaza Strip, recurrent conflict and the ensuing damage and destruction of educational facilities have disrupted services and impacted the psychosocial wellbeing of children and teachers.[1] The educational system in Gaza is also affected negatively by 11 years of blockade and the continuing failure to effect real intra-Palestinian reconciliation, despite the agreement signed under Egyptian auspices in October 2017. Over 450,000 basic, secondary and kindergarten (KG) students and teachers are identified as 'people in need' in the 2018 Humanitarian Response Plan (HRP). Some 50 per cent of students (aged 5-17 years) do not achieve their full educational potential, meaning that the psychological impact of hostilities has led to a deterioration in learning outcomes, and difficulties in reading and writing.[2]
Schools in Gaza are chronically overcrowded: 70 per cent of UNRWA schools and 63 per cent of schools run by the Ministry of Education operate on a double shift system. This reduces instructional hours on core subjects and foundation learning. It also results in student difficulties in focusing on their studies and heightened levels of violence in schools. In addition to overcrowded classrooms, there is limited time available to reinforce learning, support slow learners, and provide remedial education programmes or extracurricular activities.
According to the Ministry for Education and Higher Education (MoEHE), 86 new school buildings need to be built, and 1,081 classrooms added to existing buildings, by 2021 to provide a safe and adequate learning environment. In late April 2018, the MoEHE announced that it would build 100 new Palestinian Authority (PA) schools in Gaza and improve the KG system, which currently serves 66,150 children in 683 kindergartens. Currently, only 30 per cent of younger children (aged 3-6) attend licensed preschools in Gaza, leaving many neglected in this critical phase of learning and holistic development.
Impact of the chronic electricity deficit and poverty on education
Student performance and motivation are also undermined by the wider Gaza context of continuous power outages and electricity rationing, poor shelter and living conditions, and economic deprivation.
Students by type of school in Gaza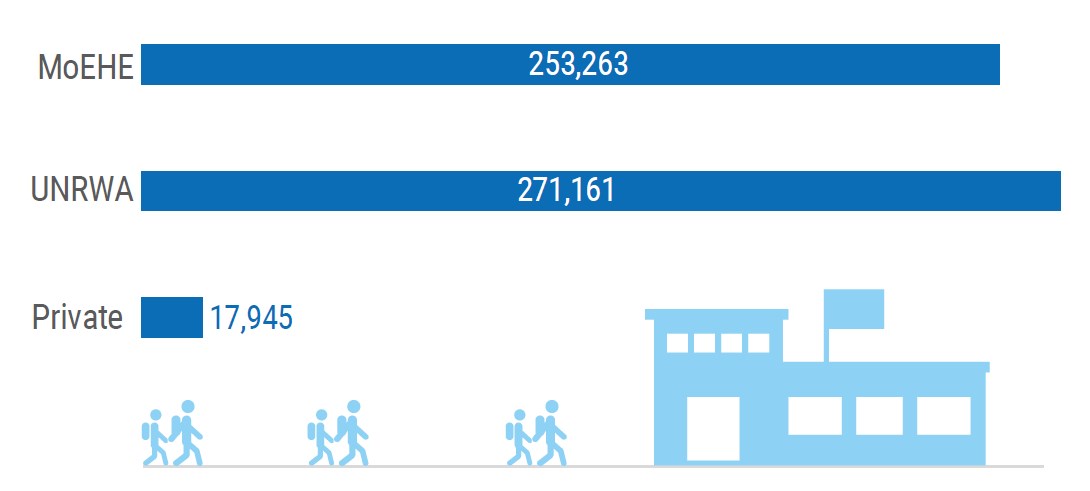 The chronic electricity deficit that causes power cuts of up to twenty hours a day restricts students' study time and their ability to concentrate and learn. It has a negative impact on their right and ability to access education at school and at home, and increases the drop-out rate. Children who drop out are at risk of child labour or of participating in life-threatening activities, increasing the demands on the already overburdened protection system in Gaza.
According to the MoEHE, $130,000 is required every month for fuel to run generators for 253,263 children to learn in a proper school environment, to use science and IT laboratories, and to attend vocational lessons. In 2017 the MoEHE requested financial support from the Education Cluster to administer the end-of-school Tawjihi exams in accordance with acceptable educational standards; the cluster responded by giving the ministry 10,000 liters of emergency fuel. Electricity cuts also disrupt the functioning of the 10 MoEHE water desalination plants in schools to provide safe drinking water. The deteriorating socio-economic situation in Gaza means that the cost of higher education is a significant burden for most families: some 20,000 graduates in Gaza have not been awarded their certificates due to their inability to pay all of their tuition and other fees.
Impact of the internal division on teachers
In the aftermath of the Hamas takeover of Gaza in 2007, thousands of civil servants paid by the PA in Ramallah, including teachers, were either forced by the PA to stop work or were replaced by civil servants recruited by the Gaza authorities and not salaried by the PA. Hundreds of government projects in Gaza were halted and the PA's budget for Gaza branches of ministries, including the MoEHE, were cut. As part of the reconciliation process signed in October 2017, 1,200 MoEHE staff returned to work, including 800 teachers, but the ministry reported a critical need to recruit 231 new teachers for the 2017/18 school year to bridge staffing shortages. There is also the risk that teachers will stop work if their salaries are not paid or they are not transported to school. Currently, there is no operational budget for replacement teachers to cover for maternity or other temporary leaves of absence; this affects an estimated 54,000 children. There is also is a critical need to ensure that returning and newly recruited teachers are suitably trained in the new school curriculum.
UNRWA financial crisis
UNRWA currently provides primary education to 271,161 Palestinian refugee students in 275 schools across the Gaza Strip. This is an increase of about 10,000 students over the 2016/17 school year. The socio-economic situation has caused widespread poverty and soaring unemployment in Gaza, and the vast majority of UNRWA students come from poor and vulnerable families. Some 8,800 teachers are also employed in the Agency's schools.
To accommodate the growing number of students and provide them with an appropriate learning environment, UNRWA must continue to invest in its educational infrastructure, and improve access to safe drinking water, sanitation facilities and a continuous electricity supply. Approximately five new double-shift schools are needed every year, in addition to the rehabilitation of existing school premises.
The rising numbers of students attending UNRWA schools puts increasing pressure on the Agency's education programme, especially in the current context of drastically reduced funding: the Agency is facing the most serious deficit in its 68-year history following the decision of the United States, UNRWA's main donor, to significantly reduce its financial allocation for 2018. While the Agency has secured sufficient funding to complete the current school year and maintain the delivery of other core services into the summer, operations in the second half of the year, including UNRWA education services, are not yet guaranteed. This threatens the continuation of the current scope and quality of the Agency's education programme. Overcrowded classrooms, a higher teacher-student ratio and higher drop-out rates may also be seen. UNRWA may not be able to maintain the same level of specialized support to low-achieving students or students with disabilities. The Agency may also be forced to make further cuts to critical routine maintenance for schools, generators, and sanitation facilities, and reduce the number of guards and attendants in schools.
Case Study: We can only keep going thanks to the parents and teachers.
Mr. Riyad Lubbad has been the principal of Al-Karmil High School for Boys in Gaza since 2006.
"We have 950 students in our school and around 50 employees. All of us are suffering as a result of the economic situation and the lack of electricity which is negatively impacting the academic achievement of the students. Some students miss school for work while others work after school at night to support their families.
Some teachers cannot come to the school because they don't have money for transportation; either they don't receive their salaries at all or they have deductions when they do get it.
Since October 2017, we have only received 300 NIS as operational expenses from the MoEHE, which can't cover our maintenance, stationery or other needs. To cope with the electricity cuts, we managed to get approval from the Ministry of Transportation, located next to us, to supply the school with an electricity line from their back-up generators. This is not enough to light up the classes and providing the fuel for the generator, which requires around 2.5 litres of fuel per hour, is another problem. The students' parents used to help us in providing the fuel but now that the economic situation is so bad, they can no longer do so.
Extra-curricular activities have been reduced to the minimum in order to decrease expenses, which is also supported by the parents. Last week, 45 of our students won first places in a number of competitions, but unfortunately we couldn't afford to reward them, we could only print them certificates. We can only keep going thanks to the contribution of the parents who enabled us to provide exams papers and do some of the needed maintenance. And because of the teachers, who despite the situation, are still committed to the students' performance and achievement."
---
[1] In the 2014 conflict in Gaza, a total of 1,175 education facilities were damaged. Some 987 students and 60 teachers were killed, and 3,497 students and 108 teachers were injured.
[2] MoEHE Study on Blockade Impact on Education 2006- 2016, Gaza- March 2016.