Civilian casualties decline in June and in the first half of 2015
Ongoing concern over use of live ammunition in crowd control situations
In June Israeli forces killed three Palestinian civilians and injured 66 others in clashes and other incidents across the oPt. All the fatalities and 58 of the injuries were recorded in the West Bank. During the same period, Palestinians killed two Israeli civilians and injured nine others, as well as five members of Israeli forces.[1] Despite the relative increase in fatal incidents, June marked the lowest number of Palestinian injuries in the oPt since January 2012.
All three Palestinian fatalities were killed by live ammunition: a 23-year-old man shot during a search and arrest operation in Jenin refugee camp; a 22-year-old man shot with live ammunition during clashes in Kafr Malik village (Ramallah); and a 23-year-old Palestinian killed at Hamra checkpoint (Nablus). According to Israeli military sources cited in the media, two of the men were killed while attempting to throw fire bombs, and the third had opened fire at soldiers.
The majority of injuries in the West Bank took place during incidents in the Jerusalem and Ramallah governorates, predominantly in the course of clashes involving stone throwing at Israeli forces, and in weekly demonstrations in Kafr Qaddum in Qalqiliya governorate. Eight Palestinians were also injured in the Access Restricted Area (ARA) along the Gaza Strip's perimeter fence with Israel.
Two Israelis were killed by Palestinian live fire: one was shot in an area near the village of Deir Ibzi' (Ramallah), and another was shot on a road near a settlement outpost in the Nablus area. Four other Israelis were also injured by Palestinian live fire in two separate incidents. Israeli forces arrested several Palestinian suspects in connection with these incidents. Five other Israeli civilians and two members of Israeli forces were injured in stone-throwing incidents. Two Israelis were also injured in two stabbing incidents during June.[2]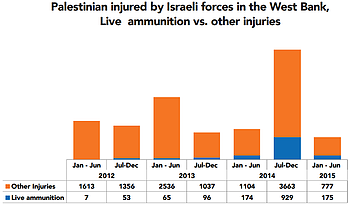 Fewer civilian casualties in the first half of 2015
Overall, there was a significant decline in Israeli-Palestinian violence and resulting casualties across the oPt during the first half of 2015 compared with the previous six months. This decline is still significant even if the Gaza casualties during the summer escalation are excluded.
In the West Bank during the first half of 2015, Israeli forces shot and killed a total of 13 Palestinian civilians, including two children. This is down from 38 fatalities, including eight children, recorded in the second half of 2014. All but one of this year's Palestinian fatalities were males ranging between 17 and 27 years of age, except for a 41-year-old man who was shot in East Jerusalem after he ran over a group of Israeli border policemen. Four of the Palestinian fatalities occurred during responses to the stabbing of Israeli forces; another three took place during clashes involving stone throwing at Israeli forces; a 17-year-old child was shot while allegedly trying to steal a car; and the remaining fatalities took place in other circumstances.
During this six-month period, Israeli forces injured a total of 952 Palestinians, 20 per cent of the equivalent figure for the second half of 2014 (4,592 Palestinian injuries). This latter period of 2014 saw heightened tensions during extensive Israeli military operations following the kidnapping and killing of three Israeli youths by Palestinians; the kidnapping and burning alive of a Palestinian child by Israelis; the hostilities in Gaza and Israel; and concerns over changes to the status quo of Al Aqsa Mosque compound.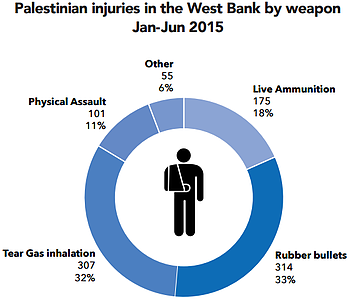 In the Gaza Strip, one fatality by Israeli forces was recorded to date in 2015: on 25 March, a 32-year-old fisherman was shot and killed while reportedly fishing approximately five nautical miles off Gaza's shore, nearly one kilometre from the northern fence with Israel. During the same period, 47 Palestinian civilian injuries were recorded in Access Restricted Areas on land and sea, down from 54 injuries inthe period of 2014 since the August ceasefire.
There has also been a general decline in the number of Israeli casualties injured by Palestinians. In the first six months of 2015, three Israelis were killed and 43 others injured versus 12 deaths (including 11 civilians, four children) and 104 injuries in the post-ceasefire period of 2014. The majority (29) of Israeli injuries were in incidents involving stone throwing, followed by five injuries due to stabbing, and four in shooting incidents. This trend is consistent with reports by the Israel Security Agency (ISA, previously known as the General Security Service or Shabak) that Palestinian attacks on Israeli civilians and security forces have declined from a monthly average of 160 between September and December 2014 to 117 between January and June 2015.[3]
Proportion of injuries by live ammunition remains high despite relative calm
Despite the relative calm and overall decrease in casualties, the proportion of injuries caused by live ammunition was 18 per cent, nearly the same as in the second half of 2014 at 20 per cent. The majority of these injuries occurred in crowd control situations, largely demonstrations and clashes involving stone throwing at Israeli forces, raising concerns about excessive use of force.[4]
These concerns were highlighted by the Independent Commission of Inquiry appointed by the Human Rights Council to review events that occurred in the oPt during the period between June-September 2014. The Commission pointed out that "the pervasive use of live ammunition inevitably raises the risk of death or serious injury. The use of firearms against those not posing a threat to life or serious injury constitutes a violation of the prohibition of the arbitrary deprivation of life, and may, depending on the circumstances, amount to an act of willful killing".[5]
Palestinian boy shot and killed by senior israeli officer
On 3 July 2015, an Israeli Brigade Commander shot and killed a 17-year-old Palestinian near Qalandiya checkpoint (Jerusalem). Initial statements by the Israeli authorities defended the handling of the incident in the face of "real mortal threat". However, video footage released by B'Tselem suggests that at the time the youth was shot, he was fleeing and did not pose a threat.2 The Israeli military police reportedly opened a criminal investigation into the case.
---