Appeal for funding to stabilize Gaza's deteriorating humanitarian conditions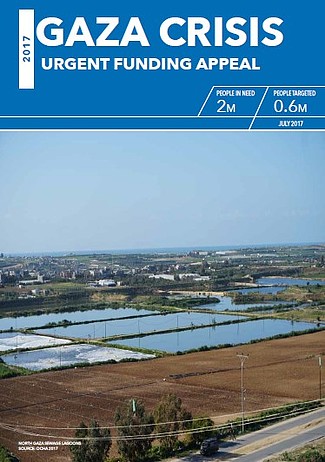 Humanitarian agencies in the occupied Palestinian territory (oPt) are calling upon the international community to provide US$25 million in new humanitarian funding to stabilize the spiralling humanitarian situation in the Gaza Strip. In a document presented to diplomats today in Jerusalem, agencies identified top-priority, life-saving interventions in health, water, sanitation and hygiene, and food security sectors.
The funding is needed to help mitigate the effects of deep power cuts and lack of fuel for generators for hospitals, water treatment plants, sewerage pumps and other key facilities. Included in the package are chemicals for water treatment and spare parts for generators that have increasingly become the primary energy source instead of the back-up for key facilities. As the effects of the energy crisis are felt throughout the Gaza strip, the package of interventions planned also targets shortages in medical supplies and aims to provide assistance to an estimated 100,000 food-insecure families and vulnerable farmers whose livelihoods are under threat. Responding to the heightened risk of diarrhoeal disease outbreaks, 8,500 hygiene kits will also be distributed for especially-vulnerable households, funds-permitting.
Despite the arrival of some fuel purchased in the Egyptian market over recent days, Gaza's electricity crisis is far from over. Electricity supply over recent days has ranged from four to six hours per day.
"The situation in Gaza has become increasingly precarious over recent months. No one is untouched by the energy crisis. And restrictions by the Palestinian Authority in the medical sector are hitting some of the most vulnerable adults and children in the Strip," said the Humanitarian Coordinator for the oPt, Robert Piper, who chaired today's meeting between humanitarian agencies and donors. "The coping capacities of Gaza's families to deal with these types of shocks are seriously depleted as the cumulative impact of 10 years of isolation, division and insecurity take their toll."